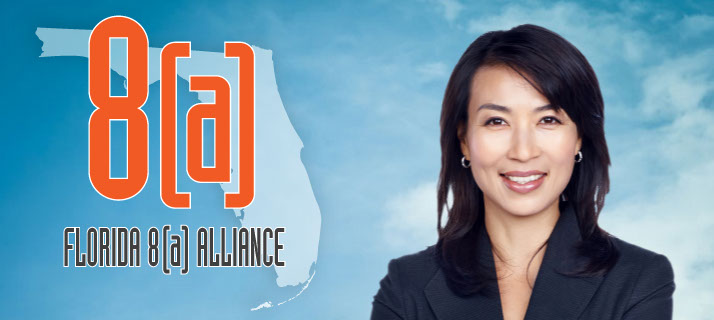 News Items
Florida 8(a) Alliance Partners with WIPP to provide educational opportunities for WOSB.
State Grant to Assist Veterans & Other Small Businesses
Florida 8(a) Alliance Partner in new Small Business Program in Jax
Sign up to receive the Free FL8(a) Newsletter and future updates on upcoming events. Add your email address to our mailing list through the link below at:
Request to join the LinkedIn Group
Welcome to the
Florida 8(a) Alliance
Giving back to the Small Business Community
Click here for a review of Conference 2016
Our 2016 Federal Contracting Conference was resourceful and informative thanks to ALL of our phenomenal supporters. Special thanks to our participants, sponsors, speakers and facilitators.
Who would have imagined that reaching a milestone of 5 years and giving back to the Small Business Community would developed into numerous opportunities, connections that will last beyond the conference and collaboration that would lead to higher-impact innovations.
From Jackie Robinson-Burnette's 'eye-opening' speech on the state of the 8(a) program to Pegine Echevarria's highly motivational keynote speech, you've all helped to make this year's conference a success.
We look forward to your evaluations to see how we can keep the momentum going. If you attended the conference, but have not completed the survey, please use this link to let us know your thoughts, ideas and suggestions. How we can help you grow your business and what educational opportunities and resources can we provide?
The Florida 8(a) Alliance is recognized as a 501(c)(3) Public Charity and has a mission to Strengthen, Train, Educate and Promote 8(a) and other small businesses in Florida.
The Florida 8(a) Alliance is open to All businesses that are:
8(a) Businesses
8(m) Businesses
Small Businesses
Large Businesses
Veteran-Ownerd
HUBZone
SDVOSB
WOSB
And other members of the general public
A Message From Andy Harold
Board chairman and co-founder, Andy Harold shares a captivating and informative message on the benefits of becoming a member of the Florida 8(a) Alliance.
Listen in as Mr. Harold present several questions many small business owners in the federal government market are looking for assistance with. Discover how Florida 8(a) Alliance can help fast track your business to success.
Andy Harold on "Shop Talk"
with Karen Mills
Karen Mills, the head of the Small Business Administration, glowingly talks about A. Harold and Associates and the Florida 8(a) Alliance.
Copyright©2013 Florida 8(a) Alliance