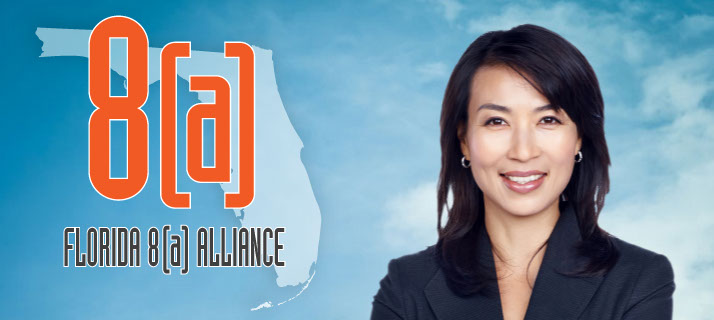 News Items
State Grant to Assist Veterans & Other Small Businesses
Upcoming Florida 8 (a) Training Events
Sign up to receive the Free FL8(a) Newsletter and future updates on upcoming events. Add your email address to our mailing list through the link below. at
Request to join the Linkedin Group
Welcome to the
Florida 8(a)Alliance
The Florida 8(a) Alliance is open to all businesses 8(a), small businesses, HUBZone, Veteran-owned, SDVOSB, 8(M), WOSB, large businesses and other members of the general public.
May 27th - 28th, 2014
Registration is Open!
Invited Government Small Business Representatives: Army, Navy, Air Force, USACE, VA, USSOCOM, Coast Guard
Invited Large Primes Small Business Representatives: Lockheed Martin, Boeing, Harris Corp, Northrup Grumman
Representatives from SBA North and South Florida District Offices will be in attendance!
Location: Buena Vista Palace Hotel
Orlando, FL
Check out our Conference Page for more information
The Florida 8(a) Alliance, recognized as a 501(c)(3) Public Charity, has a mission to strengthen, train, educate and promote, 8(a) and other small businesses in Florida.
A Message From Andy Harold
Listen to Andy Harold welcome you to the Florida 8(a) Alliance.
Andy Harold on "Shop Talk"
with Karen Mills
Karen Mills, the head of the Small Business Administration, glowingly talks about A. Harold and Associates and the Florida 8(a) Alliance.
Copyright©2013 Florida 8(a) Alliance
The Internal Revenue Service recognizes the Florida 8(a) Alliance as Section 501 (c) (3) public charity. Gifts to the Florida 8(a) Alliance are tax deductible in the U.S.A. Our Federal Tax ID # is 80-0768802. No goods or services were forwarded or offered in exchange for this contribution.