Florida 8(a) Alliance 8th Annual
Federal Contracting ConferenceMake plans now to attend our9th Annual ConferenceMay 27 - 28, 2020 Registration is NOW OPEN
Conference Attendee Quotes


​
1 - 3<>
​Florida 8(a) Alliance (Andy Harold & Stephanie Landing) does a great job bringing 8(a) firms together for educational, networking and encouragement.Gwen & Larry CollinsGreen Machine & Manufacturing, Inc.We really felt that you have accomplished so much in getting the right topics with great speakers in the time that was alloted. Keep up the great work!!!!!Carlton McGriffMatthis Construction Company, Inc.Thank you again for the opportunity to participate in the 8(a) Alliance Annual Federal Contracting Conference. I really enjoyed meeting the team and being a part of the convention.Margaret LowingerFirst Citizens BankThe Florida 8(a) Alliance Conference was very informative and helpful. The sessions that were "super helpful" included How to Sell Yourself As a Teammate, 17 Must Haves for Government Contracting & the Small Business Success Panel.Jordan WilliamsFYGmon, LLC
2019 Florida 8(a) Alliance Conference Highlights
​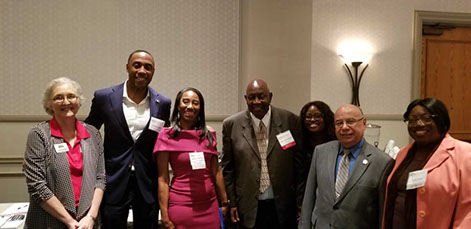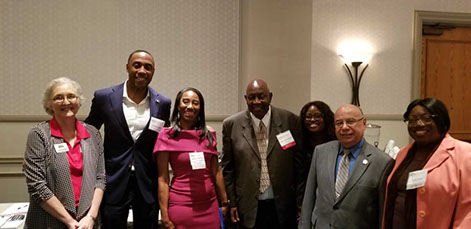 Regional Administrator, Ashley Bell speaks with FL8a Executives, Stephanie Landing and Andy Harold during 2019 Conference.Small Business Owners speak with Ashley Bell, SBA Administrator and network during the 2019 Conference.Stephanie Landing, Executive Director and Andy Harold, Board Chair, meet with conference attendee in Exhibitor HallAshley Bell, Regional Administrator greets small business owner, Carlton McGriff of Matthis Construction, Inc.Conference attendee takes advantage of opportunities to network in the Exhibit Hall during 2019 ConferenceTony Ortiz, FAA presents REAL Opportunities to the 2019 Conference Attendees.David Rose & Josh Duval - Breakout Session- Pitfalls & Perils of ComplianceSmall Business Success Panel - Floyd Capistrano, Alluvionic, Inc, Lauren Weiner, Wittenberg Weiner Consulting, LLC and Barbara Stankowski, AMTIS, Inc.Conference attendees during "Handling the Contract Award" session.Danielle Jones, AWD Management Services shares her past experiences with Financial InstitutionsSusan Thibodeaux, DSC, Inc. shares information on Handling the Contract AwardBreakout sessions with conference attendees.Conference attendee stop at Lockheed Martin's booth to speak with Suzanne Rehab and staff member.13 - 13<>
2020 Conference Registration
Now is the time to take advantage of the GREAT discount when you register for the 2020 Federal Contracting Conference. Our Early Bird
Special is available until March 31, 2020 at Midnight. That's $75.00 off the original registration price.
Conference At-A-Glance
May 27th - 1/2 Day SBA Updates, Sessions, Welcome Reception
May 28th - Full Day, Breakfast, Workshops, Keynote, Panel Discussion
Looking to spotlight your company and to a diverse audience during the conference. Take advantage of our Sponsorship Opportunities.
It's time to prepare. Gear Up and Get Ready for
2020 Federal Contracting Conference