Florida 8(a) Alliance
Leadership & Board Members
Stephanie M. Landing,
Executive Director, Florida 8(a) Alliance
Stephanie M. Landing is the founding Executive Director of Florida 8(a) Alliance. She has over seven years of project and grant management experience. She brings to her current position non-profit experience, working previously as a Grants Manager for the National Park Foundation. She managed an increasing number of grants awarded from $10 to $29 million over 3 years for education, outreach, and research projects in the National Parks. She also has 12 years business experience and 7 years in federal contracting.
In her role as Executive Director of Florida 8(a) Alliance, she ensures that program activities and operations follow standard processes and provide quality services to the small business community. She oversees the training opportunities, resources and conference planning for the small business community. Ms. Landing works with partners and sponsors to ensure successful events and relevant information is available to small businesses in Florida.
Additionally, Ms. Landing holds a BS in Biology from Dickinson College and an MS in Environmental Science & Policy from the Johns Hopkins University.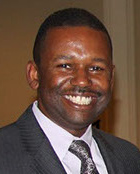 Andrew E. Harold Jr.,
Founder, Board Chairman, Florida 8(a) Alliance
Mr. Harold is currently President/Managing Member of A. Harold and Associates, LLC—a technology, education, engineering, and training services firm. He co-founded the Florida 8(a) Alliance, Inc. in November 2011 in an effort to give back to the small business community. Key contributors to his success include the Small Business Administration (SBA), Jacksonville Small Business Development Center (SBDC), and the renowned business incubator Beaver Street Enterprise Center.
A. Harold and Associates, LLC has grown from a home-based office to a 36,000-square foot facility. In August of 2007, Mr. Harold obtained his SBA 8(a) certification, allowing the company to experience rapid growth in the federal market space. In 2009, the U.S. Small Business Administration chose Mr. Harold as the District, State (FL), and Region IV winner of their Entrepreneurial Success Award. In 2010, Inc. Magazine ranked AHA #182 out of the top 500 fastest-growing private companies in the United States, growing more than 1500% in three years. In 2011, Ernst & Young chose Mr. Harold and AHA as a Florida finalist for their Entrepreneur of the Year award.
More recently, the Jacksonville Business Journal chose AHA as their Minority-Owned Business of the Year for 2011 and Mr. Harold as a top Veteran of Influence for 2014. Most notably, Mr. Harold participated twice on panels of small business owners who met with the President of the United States to discuss economic concerns. In 2017, Mr. Harold was named North Florida District, State and Region IV 8(a) Graduate of the Year.
Mr. Harold graduated from Oberlin College Conservatory in 1990 with a Bachelor's of Music degree in Piano Performance. Following graduation, he entered the U.S. Navy flight program and served as a naval aviator for 11 years of active duty and 9 years in the U.S. Navy Reserves. He recently completed 20 years of service and retired from the military as a Lieutenant Commander. Mr. Harold is Board Chair of the Florida 8(a) Alliance, a 501 (c)(3). He resides in Jacksonville Beach with his wife and four children.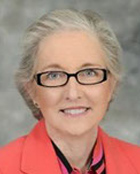 Janice Donaldson,
Regional Director, Small Business Development Center at UNF
Janice Donaldson is currently the Regional Director of the Small Business Development Center at the University of North Florida. She has been involved with the SBDC since November 1981 and has served as the Training and Communications Coordinator, Assistant Program director, and Program Director before her current position. Ms. Donaldson is responsible for the delivery of the management assistance services to small business owners in an 18-county area, with a budget of more than $1.5 million and a staff of 23 employees. UNF SBDC assists nearly 1,600
clients and trains more than 2,500 workshop participants each year. She is also a part-time instructor at the UNF College of Business.
Ms. Donaldson is also generously involved in the Jacksonville community. She serves as a member of the Leadership Jacksonville Leadership Development Team, on the Board of Directors of the Beaver Street Enterprise Center, a member of the Women Business Owners of Jacksonville and the Vice President of the Jacksonville Women's Network. In 2006, Ms. Donaldson was the recipient of the Outstanding Advocate Award from the Beaver Street Enterprise Center and in 2005, was a Florida Times-Union EVE Award Finalists. She was also named the "Woman of Influence" by the Business Journal of Jacksonville in 2004. In February 2006, she published "A Comparative Analysis of University Entrepreneurship Programs" in the Business Education Forum.
Suzanne Raheb,
Corporate SBLO, Lockheed Martin
Susannah (Suzanne) currently serves as Corporate Supplier Diversity Leader of Lockheed Martin. In this position, Ms. Raheb identifies strategic initiatives to help Lockheed Martin achieve its supplier diversity goals and objectives to maximize the corporation's utilization of small businesses through subcontracting and partnering initiatives. Ms. Raheb is also responsible for the operations of the Supplier Diversity function, compliance and reporting activities as well as outreach efforts.
In her prior assignment, Ms. Raheb served as the manager and corporate focal point for Government Programs, including Mentor Protégé, Indian Incentive and Small Business Innovation Research / Small Business Technology Transfer (SBIR/STTR) programs. Ms. Raheb possesses 20 years of professional experience and is widely recognized for her innovation and leadership. She held a variety of increasingly responsible positions with Lockheed Martin, including Innovation Program Manager, Business Unit Resource Manager, and Communications Specialist.
She holds a Bachelor's Degree in Communications from the University of South Florida and a Master's Degree in Management from Webster University. Her professional boards and memberships include: National Veteran Owned Business Association board member (NaVOBA), Women Impacting Public Policy (WIPP) Corporate Advisory Board member, Space Coast Central & North Florida Minority Supplier Development Council president, Alliance of Supplier Diversity Professionals (ASDP) board member and communications chair, Orlando Regional Chamber of Commerce Leadership Orlando program graduate, Brevard County Business Advisory Council member, and NASA/KSC Prime Contractor Board Working Committee member.